by: Andre Prefontaine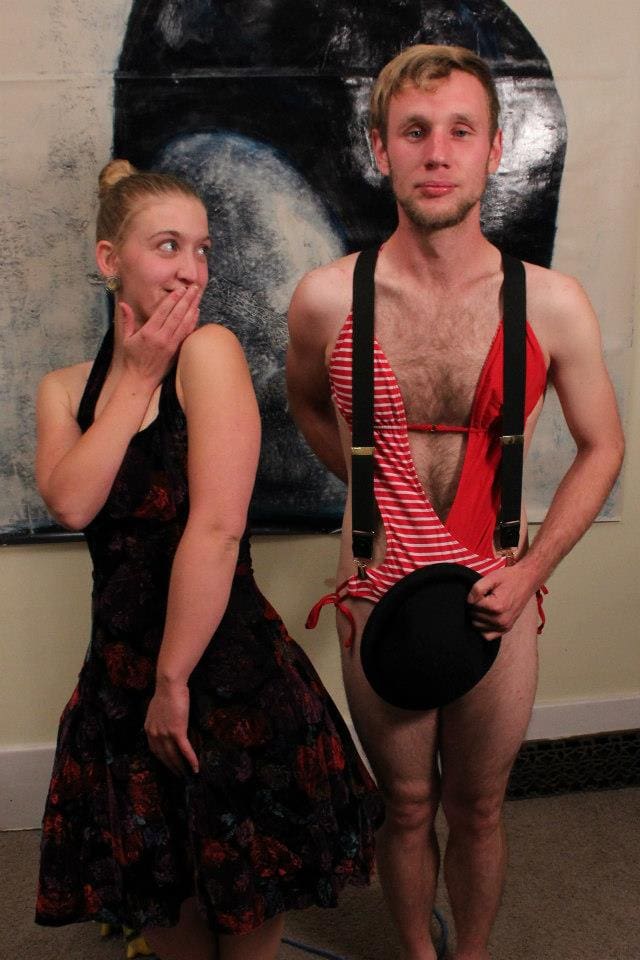 Calgary culture is regarded as two things: Mayor Nenshi and the Calgary Stampede. That's it.
From a Calgarian's stand-point, it is seen as three things: Mayor Nenshi, beef-on-a-bun stains caused by the Calgary Stampede and a pedestrian bridge that looks like a Siamese finger-trap. It's a wonderful place…if you don't live there as a 23 year old gay man trying to establish himself as a slam poet. Which is where I found myself.
But. Let's backtrack a bit, shall we? I had been in the Poetry Slam scene for four years before I won the Canadian Underground Championships at CFSW (Canadian Festival of Spoken Word) in October 2012. It is something I couldn't have done without persistence of my slam coach.  See, next to the stampede the insidious promotions of pipelines and horrific flood damages, Calgary is also home to one of the greats -greatest- in Canadian Poetry: Sheri-D Wilson. And My goddess, am I ever lucky to have met her. From the age of nineteen to twenty-two she mentored and befriended me, showcasing life as both a confidant and sagacious teacher. As her student, I was employed to challenge myself in creative and personal growth as the loud-mouthed whipper-snapper I am. She also hired me to mow her lawn in the summers, which did result in me mowing down her raspberry bushes, but that's another story…
From the moment we first met, I knew Sheri- D believed in me.  She was a steel trap of compassion and brutally insightful critiques, never allowing me to settle for a minimum and always going for the greatness she saw in me. Then came the inevitable day she stepped away from slam to focus on her own projects; she was no longer involved in my slam teachings. With a championship and national accolades under my belt, I felt encouraged and yet emotionally stuck. Then in the summer of 2013 I signed on to tour the Ontario Slam Circuit and little did I know, my life would change. Cliche but true!
What I witnessed in Ontario -especially Toronto- was a vast sense of community with each venue embodying a unique voice that was different from scene to scene. Whether it was the rambunctious nature of Toronto Poetry Slam, the high energy depth of Guelph, the humble -Now discontinued- Bill Brown 1,2,3 slam, each scene created a home base for spoken word artists to share, love and grow as a community. This was something that Calgary lacked due to size. At 1.5 million people Calgary feels like a small town, it's fairly insular. But upon coming to Toronto I learned that this was a place I wanted to call home because of its density and capacity for opportunity. So in August 2013, I used the small percentage of cowboy blood in my veins and hitchhiked out East in hopes of chasing the sunrises that always graced its direction. Now, in late march of 2014, I can say that I have never felt more welcomed and at peace with such a life changing decision. Love, growth and community are fundamental to life and I'm elated to know it can exist so beautifully in the great city of Toronto. Follow me on Instagram, Twitter or FB.