The LCP Chapbook Series is a quarterly chapbook publication program that publishes fresh and exceptional Canadian poetry guided by various themes and forms to centre diverse voices, increase visibility and provide recognition and celebration of rising poetic talents in Canada.
Chapbook for Poets over 65 from the LCP Chapbook Series
Edited by Claudia Coutu Radmore
Submission Guidelines: 
Submissions are open exclusively to members of the League of Canadian poets who are 65 years in age or older
All submissions must be in DOC, DOCX or PDF format.
Poetry submissions may consist of one to three previously unpublished (print or online) poems in any style (including prose poems).
Length is flexible, though poems longer than 2 pages will be considered only if they are of exceptional quality. Poems longer than 4 pages cannot be considered.
Please complete the form in its entirety. If you have trouble with the form, contact [email protected]
We accept simultaneous submissions. If your piece is accepted elsewhere, please notify us immediately.
Selected poets will receive a $25 honorarium per selected poem.
Deadline is November 30, 2023
LCP Chapbook Series - All Chapbooks
A Chapbook for medical practitioners, learners and poets.
Edited by Zamina Mithani
December 2022
Contributors:
Candace de Taeye, Ivy Deavy, Annie Foreman-Mackey, Kaylie, Kathleen Klassen, Madeline McKenzie, Lori-Anne Noyahr, Savita Rani, Eleonore Schönmaier, Lauren Seal, Kimberley Thomas, James X. Wang, Laura Zacharin.
From the introduction
The pieces in this collection offer the glimmer of emotion beneath creative line spacing and various nouns that draw attention to feelings of estrangement, pain, and loneliness in healthcare. Sometimes we can be looking at a life-altering moment and feel that we are not really there, but are instead, behind the glass walls of machinery, pharmacology, and diagnosis. And amid all of those variables, there are layers of sound. The sound of the bedside monitor taking vitals, the sound of chatter among teams of nurses and doctors, the sounds of family members, the sounds of wheels moving beds from one ward to another—and our own internal sounds. The pieces in this collection range from the sounds of an arrythmia, violence in the hospital, a medical history, a library review and so much more. They are a combination of our inner monologues and the way we hear our patients, and the way they hear us differently in return. 
The work of creating a medical community that represents its patient population happens when we share our stories to the world, just as patients share their stories to us. Thank you for helping us rebuild the soundscape of medicine, to include all the sounds we know, and inviting those from the outside—the adventitious—back in.
Spectral Lines Visual Poetry Chapbook
What does language look like?
Edited by Kyle Flemmer
July 2022
Contributors:
Christian Bok, Moni Brar, Benjamin C. Dugdale, Sarah Imrisek, Daze Jefferies, Samantha Jones, Eimear Laffan, Mark Laliberte, Carol MacKay, Colin Morton, Cassandra Myers, katie o'brien, Nikki Reimer, Rasiqra Revulva, Dani Spinosa, Kate Sutherland, Grant Wilkins
From the introduction
What is the difference between looking and reading? Between image and text? Between writing and drawing?
To me, questions about the difference between visual art and visual poetry are more productive than definitive answers. Visual poetry isn't any one thing. It doesn't look any one kind of way.
What are the limits of legibility? Of interpretation? Of language?
Language is a field with overlapping strata of signification. The visual aspect of language is entangled with its sound, just as the method of inscription impacts its meaning.
Visual poetry radiates outward in all directions from the question: What does language look like?
Here, you will find poems that make you ask: What am I looking at? Is this a poem? How should I read it? What does writing do? What is it for?
In the end, I hope these poems leave you wondering how many ways there are to play with the visible features of language.
On the Storm / In the Struggle: poets on survival
Edited by Adebe DeRango-Adem
June 2022
Contributors:
Donald B Campbell, Sam Cheuk, Audrey Lane Cockett, Bashar Lulu Jabbour, Kyla Jamieson, Penn Kemp, Vivian Li, Willow Loveday Little, S.A. McCormick, Sorouja Moll, Richard-Yves Sitoski, Myna Wallin, Erin Wilson, Heather J. Wood and Anna Yin.
From the introduction
The poets in this collection have made it. Individually, collectively, onwards. Made it onwards and onto these pages, made these poems of making it through.
The poems in this volume are true lighthouses in the fog. They come from myriad places and perspectives on history, global in their reach as they limn a way of surviving acts of violence both near and far, wars past and continuous, and present; the forces that have wreaked havoc on our bodies and minds and spirits in the struggle.
From the eye of the storm these poets speculate a future, however tenuous. Herein are small offerings to provide shelter in the storm, as well as a time to think, space to reconsider our present realities. In times where survival seems dim, poetry can render an opportunity to heal, affirm the struggle in and of itself; affirm the compromised body, compromised communities, the desire, however anguished, to articulate a language for being stunned by the miracle of being here to witness the world in all its suffering and continuance, its gravity and bliss.
A Chapbook Anthology of South Asian Poetry
Edited by Shazia Hafiz Ramji
May 2022
Contributors:
Manahil Bandukwala, Gavin Barrett, Farah Ghafoor, Meharoona Ghani, Maryam Gowralli, Laboni Islam, Saakshi Patel, Ayaz Pirani, Fauzia Rafique, Renee Sarojini Saklikar, Amritpal Singh Arora, Sanna Wani
From the introduction
It is with immense Brown joy that I've had the privilege of bringing together a range of South Asian voices in celebration of Asian Heritage Month for the League of Canadian Poets.
The poets in Ahvaz / Aavaz / Avaaz dwell in the liminality of what it means to be "South Asian" on Turtle Island and elsewhere. From thinking about lineage at Safeway to sounding Bangla, the poets in this collection offer us haraami poems, garam garam poems, and ocean poems to speak to and with the vibrant polyphony of our diaspora and communities.
The Lesley Strutt Memorial Chapbook for emerging poets over 40
Edited by Claudia Radmore and Joan Conway
This chapbook was created in memory of Lesley Strutt, a poet, friend and supporter of poets across Canada.
February 2022
Contributors:
Anne Archer, Sonja Arntzen, Barbara Black, Carol Casey, H.E. Casson, Marlene Grand Maître, Carla Harris, Louisa Howerow, Norma Kerby, Sharon Lax, Josephine LoRe, Jane Macdonald, Dharmpal Mahendra Jain, Tanya McIntyre, Anita Ngai, Susan Publicover, Carol A. Stephen and Susan Wismer.
From the introduction
'It's never too late!"
I can almost hear Lesley Strutt whispering those words in our ears. Cheering us on. That was the kind of poet she was. That was how she lived, fully, with enthusiasm and light. And always with encouragement.  
This chapbook is a part of Lesley's legacy, dedicated to supporting emerging poets later in life.  It wants poets, not just to show up, but to do so with heart, intention and clarity. Her own words mirror this.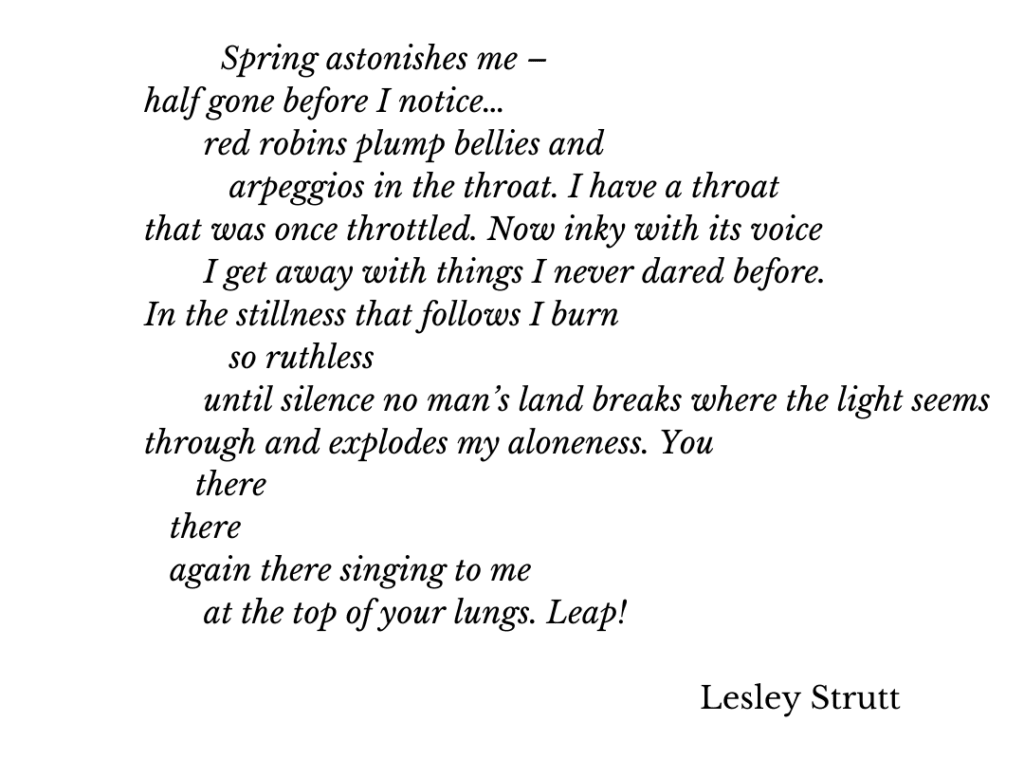 With Lesley's vibrant callout, let the conversations begin.  
the way out is the way in
an anthology of disabled poets
Edited by Stuart Ian McKay
September 2021
Contributors:
Sophia N Ashley, Roxanna Bennett, Ashley-Elizabeth Best, Virginia Boudreau, Anna Cavouras, Leanne Charette, Sile Englert, Victor Enns, Meharoona Ghani, Amy LeBlanc, Valerie Losell, Katie MacLean, Margarita Papenbrock, Kelly S Thompson, nancy viva davis halifax
From the introduction
these poems reveal how we encounter our disability.  our disability compels us to confront the strange minutiae of life – those many small tasks that can overwhelm us – and the larger issues:  relationships, discrimination, pain, joy, confusion.  our disability colours everything.  i encountered my own disability while reading through the many submissions.  in my need to give each poet justice, i read only a select number at a time.  i didn't want to exhaust myself, make hasty, poor choices out of an anxiety-ridden desire to get it done.  too much mental weight makes a poet a dull boy.  writing is always slow for me.  my learning disability makes it difficult for me to find and express my thoughts and language.  my visual disability means i must write by hand on paper.  this is not a complaint, it is mere fact, and acknowledging this fact helps me see how we all share one essential trait:  perseverance.  our ability to persevere, to succeed beyond what other non-disabled persons expect, perhaps even desire to witness, gives us dignity and power, and, most of all a potent joyfulness.
if our disability is anything, it is a fire.  we give our fire – our work, our own personal story back out to the world, not hoping for a grand conflagration, but a beacon for an ever-opening world.
let us stay there, writing that world into existence for everyone.  let us make a new kind of history there, together.  we have a good work to do.  come on, let's go…
You are a Flower Growing off the Side of a Cliff
a chapbook about mental health and resiliency (Two Volumes)
Edited by Rayanne Haines
April 2021
Contributors:
Volume one: Jessica Coles, Lorne Daniel, griffin epstein, Clara A. B. Joseph, Dan MacIsaac, Kate Marshall Flaherty, Antigone Oreopoulos, Julia Sorensen, Andrea Thompson and Erin Wilson.
Volume two: Moni Brar, Franco Cortese, Catherine Grahame, Samantha Jones, Karen Klassen, Kelly B. Madden, Kim Mannix, Anna Quon, Greg Santos, Lauren Seal, Catherine St. Denis, Amy Willans, and Anna Yin.
From the introduction
The poems in this collection weave and jolt through the human condition. They are raw and determined. They are haunting, and in some cases, haunted. They are intentional. They interrogate. They remember. They clap back. In this collection, resilience resonates as both boulder or a tulip. 
Voices of Quebec | Les voix du Québec
Edited by Carolyne Van Der Meer/Sous la direction de Carolyne Van Der Meer 
March 2021
From the introduction
"When I took on the role of Quebec Representative for the National Council of the League of Canadian Poets, one element that was top of mind for me was something I'd discovered over many years of being involved in Quebec's poetry community: that the anglophone and francophone poetry communities don't interact much. Some of you may find this normal and expected. But over time, whether normal and expected or not, I began to question it. Why shouldn't these two communities know each other better? This is not about politics, so I won't let that enter the discussion here. My goal became to find ways for these two communities to intersect. This chapbook, Voices of Quebec| Les voix du Québec, is the first evidence of this intersection, bringing together some of the strongest voices in Quebec right now in a tradition that can transcend the spoken tongue. It is all poetry after all: a celebration of the intricate ways in which we know our mother tongue—and a celebration of a mother tongue other than our own."
-Carolyne Van Der Meer, Editor
"Lorsque j'ai assumé le rôle de porte-parole du Québec pour le Conseil national de la Ligue des poètes canadiens, un des enjeux qui me tenaient à cœur était un constat que j'avais fait au cours de mes nombreuses années au service de la communauté des poètes du Québec : les communautés de poètes anglophone et francophone n'interagissent pas beaucoup. Certains d'entre vous peuvent penser que c'est normal et qu'on devrait s'y attendre. Quoiqu'il en soit, les années passant, j'ai commencé à me poser des questions. Pourquoi ne pas permettre à ces deux communautés de mieux se connaître? Il n'est aucunement question ici de faire de la politique, je ne laisserai donc pas de place à cet aspect dans la discussion. Mais je me suis donné pour objectif de créer des points de rencontres entre ces deux communautés. Ce petit recueil, Voices of Quebec|Les voix du Québec, est la première concrétisation de ces points de rencontres. Il réunit quelques-unes des plus grandes voix du Québec actuellement, dans une tradition qui peut transcender la langue parlée. Après tout, tout cela n'est que poésie : une célébration des façons subtiles de manier notre langue maternelle — mais aussi la célébration d'une langue maternelle autre que la nôtre."
-Carolyne Van Der Meer, éditrice
Poetry from Atlantic Canada
Edited by Miriam Dunn
2020
Contributors:
Donna Allard, Janet Barkhouse, Jeri Brown, Lucas Crawford, Alison Dyer, John Flood, Kayla Geitzler, Jennifer Houle, Matthew Gwathmey, Kathy Mac, Tiffany Morris, Michelle Porter, Anna Quon, Eleonore Schönmaier and Elizabet Stevens
From the introduction
When I decided to gather together some of Atlantic Canada's rich poetic voices and assemble them into a chapbook, I had a vision in mind of what that book would be. This is not that book. Instead, these talented individuals surprised and delighted me with a wide scope of observations, memories, confessions, finding the exceptional in the every day. This collection remembers those who have left us, witnesses those in front of us. It navigates the streets and navigates relationships; it invites us to experience the isolation of being home alone, the heroics of mothering young ones, the peace of evening falling. It takes us shopping for paint and introduces us to passionate individuals. It watches the news and watches people. All from a new perspective; all during this Time After.
It has been my distinct pleasure to read the works of these fine poets, as well as the remarkable work from those fine poets for whom this chapbook could not afford space.
I am what becomes of broken branch
Contributors:
Michelle Brown, Kirk Bueckert, Carol Casey, Colleen Charlette, and Cooper Skjeie
From the introduction
It is often stated that the voice of an individual is as unique and distinct as a fingerprint. In poetry it is described as "that unmistakeable something" – a unique presence and way of saying things on the page or the stage for the spoken word artists. It holds true in this poetry chapbook series dedicated to Indigenous poets. Each poet's work was unmistakable— subject matter, word choices, images created for the reader, imagination at work and a sense of consciousness of life around them. 
I hope you enjoy the poetry as I did; sit with the poets a while and enter into the places they take you in their imaginations and yours.  
A Collection of Voices by Black Poets in Canada
Edited by Chelene Knight
2019
Contributors:
Fiona Raye Clarke, Catherine Esther Cowie, Irene Moore Davis, Trynne Delaney, Marita Forget, Shery Alexander Heinis, Charlotte Henay, Alannah Johnson, Victoria Mbabazi, Emmanuel Uweru Okoh, stephanie roberts and Blossom Thom
From the introduction
The poems in this collection are filled with incredible Black voices belting necessary narratives. Through a calling in of community, the commonality of shared experiences, and the laying down of roots, these poems echo strength and power. These poems—are family. 
In putting together this chapbook, I looked for pieces that not only held their own on the page, but transformed into movement, dance, joy, pain, diaspora, and even sadness—off the page. This is not an easy or ordinary act. Each piece asks a questions of its reader but offers no answer, no solution. The job of poets here is to open the door or curtain for a moment to let in a sliver of light. Just enough for you to make your way over these mountains, these neighbourhoods, this hunger, this thirst, these hills, these dreams, these fields—these lands.
Fresh Voices: Tending the Fire
poems by associate members of the League of Canadian Poets
Edited by Joan Conway and Blaine Marchand
2020
Contributors:
Susan J. Atkinson, Michelle Poirier Brown, Carol Casey, Ellen Chang-Richardson, Shayne Coffin, Pat Connors, Sarah Hilton, Louisa Howerow, Norma Kerby, Shannon Kernaghan, Chloe Lewis, Kelly B. Madden, Laura McGavin, Natasha Ramoutar, Archana Sridhar and David Yerex Williamson. 
From the introduction
Fire is intimate. It encourages a sense of community as we curl around it, transfixed by its flames, and soothed by its heat. We can't help but be drawn in. This is how it feels to enter these pages. When you begin reading the poems, you can imagine a late summer's night sitting around a campfire where stories are shared, memories are stirred, and passions evoked. Read it like you would a flame, enter the inner poetic world of silence, only to be snapped back by a sharp crack, a flare of sparks leaving you startled. They provide a light to illumine difficult subjects, while at the same time a candle to dream into.
These poems embrace the many regions of our country. They engage with urban centres, 'Let this fire breathe, there are intersections/ still, where you may move as one'(Hilton) and then shift you to rural landscapes, 'Fire, a strange beast's wind bent/ you to submission, depending on its direction'(Kernaghan).
These poems reflect on its' power, 'Gnarled branches, the circulatory system sprouting from the buried'(Coffin) while also connecting you to deep sensitivity, 'It feels impossible/sometimes/to be near the source'(Lewis).
These poems invite you to gaze into anger's heat, 'You will find a flock of sparrows/chattering in his red-hot mind/ dousing everything'(Atkinson) as well as glow with reverence, 'Wash, he said, and I bent my face into the smoke'(Brown).
These poems shift you into a visionary world, 'Then my words would blaze/a trail across the midnight sky/and be a likeness of the light'(Connors) and then singe you with their destructive capacity, 'wind scatters stench/over sweet burning, charred notes/no longer caged'(Howerow).
These poems lead you forth into grief's coals, 'fire's rank breath/howled so deeply'(Madden) and then glow with ceremony's strength, 'I carried your kindled bones to the truck/ wondering if you were still woven/in the grass, the drums(Williamson).
These poems burn with poetic power, 'let these words turn to smoke/clinging to your hair/ your skin, nestling under your fingernails'(Ramoutar).
New Collected Poems from LGBTQI2S Writers in Canada
Edited by Ali Blythe
2019
Contributors:
John Barton, Karin Cope, Tanis Franco, Keith Garebian, Kayla Geitzler, matthew heinz, Rachel Lallouz, Chloe Lewis, Nisa Malli, Trish Salah, Jane Shi, Matthew Stepanic and John Emil Vincent
From the introduction
I know it has taken decades of the heart's muscle to build these spaces we can gather, and quite a few more to invite others in to listen. I know good authors who have had to keep hammering on the doors of granting bodies, publishing houses, festivals. Then took up positions as doormen to let others through. Then built their own spaces with their own doors.
Collected Poems from the 2018 Haiku contest from the League of Canadian Poets
Edited by Claudia Coutu Radmore, Terry Ann Carter, and Naomi Beth Wakan
2018
Contributors:
Maxianne Berger, Barbara Black, Nane Couzier, Anne Dunnett, Rhonda Ganz, Dorothy Mahoney, kjmunro, Ulrike Narwani, Marianne Paul, Jacquie Pearce, Pauline Sameshima, Beth Skala, Richard Stevenson, George Swede, Sarah Wiseman and Derk Wynand.