Review: Undiscovered Country by Al Rempel
Reviewed by Adrienne Fitzpatrick
This review was first published in Thimbleberry (Volume 4, Summer 2019)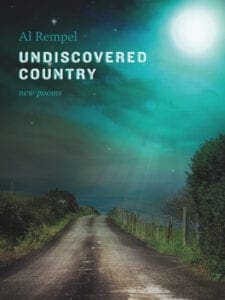 Rempel's book arrived in the mail in late August, in the still bright summer. I was still slow with the heat. It was deep into October when I first read through it and it was a good companion. This work evokes the darkness that envelopes, the sense of finality, of closing out, during the waning light of fall. It's a taking stock of time, when we review our losses and triumphs. And maybe the darkness draws us in just as it draws the shadows out. On the way to work is where they greet Rempel. Perhaps that is where they greet us all.
what else
do we disappear into, our eyes dry
from straining at the ghosts ahead
Rempel's words will resonate with any northerner who bundles themselves and their kids in dark cold cars in the morning, off to work and school. The grimness, the steamed windows and hard seats. How the thoughts tunnel in.
The book begins with a long poem, a lyrical prelude. He pays as close attention to the natural world as he does his own internal world. As if the world, with its familiar round of seasons and routine, were keeping us tethered, our emotions in check. In this sense, the darkness of winter lets us explore our own darkness. Rempel is an able guide. He sustains this mood of introspection in "Into the Cloud of Unknowing" his eyes focused on the head lights ahead of him because "you can't imagine wandering off / the beaten path of your consciousness".
Rempel brings us along on the routines of his days. Driving to work and coming home. His wife having a bath, his daughter blowing bubbles in the backyard. Then the shock of disbelief and grief pops up, unbidden. Alyssa, who died so young. I met her once, at Rempel's cabin in the Buckhorn. It was a golden summer and she was thin on a chair inside. Already sick. She turned to acknowledge me, her beautiful face, with such a look of deep knowing, not of me, but something within me, or past me, that I will not forget. Rempel mourns her passing, the unfairness of it. The reader gets a glimpse of her, just as I did, swift and powerful.
The middle section contains poems that mourn the loss of his parents. He contemplates his orphan status, the physical loss of their presence found in precise, visceral detail: "the earth, the rain saying / fatherless, motherless…" Yet his eye and ear are light. His attunement to a soft cloud, the neighbours crowd of crows, lightens the edges. The reader gets the sense that it's just these touches of grace at the edges of our lives that points towards a sense of hope. Spring will come, the darkness will lift.
that's it then

a small space is all we need, dark, in the dirt

with a few kind words placed over us
This is Rempel's third book of poems, following This Isn't the Apocalypse We Hoped For and Understories. His lyric voice continues to delight as he shows us his wounds, his fears, his pleasures. The poems are both introspective and light, trying to steer a steady course through his days. Much of the book is driven by thoughts that come unbidden when we are alone with ourselves: in a coffee shop, in a car, at home when no else is around. The backyard beckons, the forest, clouds, bird sounds – with an edge to it.
this web you've stretched across the landscape

in your mind, so beautiful, this valley you've woken up in

with the taste of death in your mouth
The book ends with another long poem, "Once Around the Sun" that sees the reader through a year in his life in the Hart, a place that inspires him:
Today around suppertime, a large green butterfly

Flits between the trees in my backyard, impossibly,

As if another world had been conjured

And slid quietly down in place

When I wasn't looking –
But the same beauty and power is humbling, even frightening:
Last night, thunder & lightening inserted themselves

Into my dreams, and I had to accept it,
Undiscovered Country finds the author embracing and evading grief, fear, despair and mortality. His words give shape to the shadows that come up to the side of the road when you're driving in the dark – and to the music of the beautiful, brutal world that is just outside the window, outside the door.
We are all pretending is the penultimate line in the book, and this pronouncement pervades the book. We are pretending, just like Rempel's neighbours sporting shorts and a barbeque in their snow-filled yard at the first blush of sun. They know, and we know, that it is still a long way before spring with its unruly growth will arrive. But an afternoon of pretending, flouting the long winter, is ridiculous and refreshing. It's how we get through a long winter, and, as Rempel says in so many ways in this book, through our lives.
Undiscovered Country. Salt Spring Island, BC: Mother Tongue Publishing, 2018
This review was first published in Thimbleberry (Volume 4, Summer 2019)
---
Al Rempel's books of poetry are Undiscovered Country, This Isn't the Apocalypse We Hoped For, and Understories. He also has two chapbooks: Four Neat Holes and The Picket Fence Diaries, as well as a new one forthcoming in 2020 from Alfred Gustav Press called Deerness. His poems have appeared in various journals including The Malahat Review, GRAIN, CV2, Event, and Prairie Fire as well as in anthologies such as Sweet Water, Heartwood, The Best Canadian Poetry in English, Rocksalt, and 4Poets. He was awarded Prince George's Arts & Culture Award for Poetry in 2012 and Shortlisted for the Fred Cogswell Excellence in Poetry Award in 2013. One of his poems was shortlisted for Arc's Poem of the Year Award in 2015 and his poems have been included twice in the Poetry in Transit project in Vancouver. Some of his poems translated into Italian by the poet Sandro Pecchiari. Rempel has also created a number of videopoems in collaboration with local artists. "Sky Canoe" was screened in Prince George; Vancouver; Dunbar, Scotland and in Bristol, UK. One of the poems in Undiscovered Country, "He Talked in his Sleep," has been made into a videopoem. Al Rempel currently lives in Prince George, where he teaches physics and science at a high school.