Of Light: A Review of Jude Neale's Impromptu
Reviewed by Cynthia Sharp
First Published by The Miramichi Reader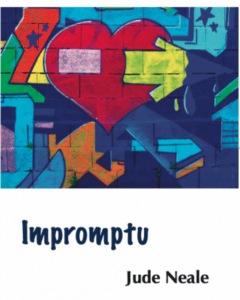 Jude Neale encouraged me to write with her through National Poetry Month and I caught the fever, her own original prompts the ones that flowed most easily. Like the collage of hearts and stars on the cover, Impromptu is an explosion of everyday love and being. Neale is sunlight from the inside out, the rhythms of daily life in the direction of devotion.
Love imbued in her biorhythms, Neale breaks open another ethereal collection filled with imagery, strength and surprise. An intriguing Baldwin quote opens the book, setting readers in a blissful Zen state from which creativity emerges. As poems build on each other, Neale endows us with the wisdom that we may choose how to live this one ephemeral life. Diction like "confabulation" and "gloaming" permeates the narration, making the visceral accessible and concrete. She names light, giving it form, presence and permission:
"The shadows lengthen

until I can hold

the whole world softly

in my out stretched arms."
Neale confounds beyond wonder until all who choose are within her radiant reach. She ends poems with profound questions that give beyond the border and scope of the piece to alight into the great beyond, love of the universe. Like a Paulo Coelho vision, "The Promise" resonates with such eloquent metaphor and strong surrealism that the audience believes in her reverie:
"If she is the wind

can he be the hollow flute

echoing back her urgent song?"
In pieces like "Shelter," the poet not only possesses keen insight into human nature, but plays with the elevation of collective consciousness, the turns in her poems an elixir for transcendence, her stargazing elevating culture into healing veneration of the young, existentialism for the spirit.
"Your ice blue eyes

watch without judgement…

Sleep my child –

nothing matters more

than this peace you carry."
Neale validates our collective veneration of the children we're privileged to care for, those who will live on after us, perhaps with the tiny rhythms of our adulation to pass on to future generations beyond themselves, capturing how a grandchild is more magical than anyone gone before. Her last stanzas play with the meaning of so many types of rest, of permanence and impermanence. With honesty and openness, Neale embraces the finite nature of individual human life, manifesting meaning beyond mere acceptance in her deeply kind, immeasurable presence:
"I am here to hold your tears

so you can rest,

and I can uncertainly follow."
As Neale expands the ordinary into the eternal, one is reminded of Rilke's lines in the Duino Elegies, where he says:
"Once for each thing. Just once; no more. And we too,

just once. And never again. But to have been

this once, completely, even if only once:

to have been at one with the earth, seems beyond undoing."
Like Rilke providing a fulfilling experience of completion from which we can let go, Neale is not afraid to directly acknowledge truth, then bend it into new light. "Changes" is my favourite poem in the book, the way it gets inside the reader and uplifts in exquisite imagery, appealing to all the senses at once:
"If the dying earth was carpeted with

A bright pallet of wild flowers

And the waters sang with whales

It would be enough for me to dress in white to marry the world again…"
The poem then journeys from a land of wildflowers and clean, calm air to delicate purity:
"If I could I would change it all

I would leave luminosity and light where my feet had trodden."
Neale is herself a wildflower. Through her evocative words we breathe in how we always wanted to live and give ourselves permission to be who we always were:
"If I lost my voice I would learn to give with my hands

I would fashion bracelets of gold

To show you my shimmering tune…"
Alliteration flows with the cadence of oceans in lines like "show you my shimmering tune" and "flourish in the bowered bed," an image reminiscent of Titania, pure of heart. "Waters sang with whales," Neale writes, the rise and fall of lines a thrilling ride on a turbulent sea, a reminder of all there still is to dream and create, all that lies within our imagination, her subtle use of poetic devices a beautiful lilt in her multi-layered flower imagery.
In "Gratitude," Neale embraces the wisdom of having lived, still open to the new:
"I will sing

Puccini's Madame Butterfly

to the green and patient lake."
We ascend in each of her generous visions, floating above reality to possibilities in reach. She's dreamed them to us so we may taste their visceral deliciousness "again and again," every line alight with symbolism from the inside out.
"The Gift" is another remedy of life experience teaching one how to see:
"the Love you have scattered

Like birdseed."
Neale replenishes us to wholeness with concrete images of the eternal in our finite lives.
The collection is not without playfulness. "A Okay" reveals the poet's sense of humour, while
"The True Story of Otherworldly Matters" brings home the uplifting theme of transmutation.
"I had been visited by his grace

And I believed for the first time

In the unknowable practise

of the human spirit."
My other favourite in the collection is written from Neale's own inviting prompt, "Add a day to any month." I can taste the nasturtiums, floating through wild flowers and magic realism with the narrator.
In poems like "The Chrysalis," Neale finds personal meaning in tiny places and brings them to the womb of the whole.
She excels in a variety of genres, from free verse to form poetry. Crafted with juxtaposition, her haiku suggests subaqueous depth in only seventeen syllables, speaking to the power of chemistry:
"Faint-hearted lover

Don't stop yearning for thunder

It waits like a pearl"
Prompt 26 offers another glimpse of love, rare and mature, carried with a unique allusion to Methuselah's 969 years, the longest life recorded in the bible:
"But I'm patient as Methuselah.

"Don't mind waiting

for the ripe perfection of you."
She continues to explore the ebb and flow of decades of marriage in "Safe Harbour:"
"I thought love was something shiny

And not this burnished light

That joins us like steel"
The collection is resplendent with reflections on love:
"It smells like tangerines…

I am grateful

as a field to rain"
as Neale leaves us with tangible images that build seamlessly on each other:
"From the leafy canopy

Where there's hardly a sound,"

our yearning to dwell in the sky."
By producing Impromptu, Neale shows by example that a daily writing practice, whether for National Poetry Month or as a way of being, is simply a matter of doing it, even when it scares you, even when you're stuck. Her prompts carry writers like a mountain stream, immersing us in her voice and trusting us to speak our own. Impromptu is a poet's gentle companion, permission to be our own authentic selves. Readers are left floating in the air, high on poetry, creative space opening before them, surrendering to the call to write. Ideal for high school, college and university language arts classrooms, as well as community workshops, this collection of poems and prompts is a must have.
Read Jude Neale's National Poetry Month post about Impromptu (April 2020)
Impromptu by Jude Neale
ISBN 978-1-77171-358-0
From Ekstasis Editions
---
Jude Neale is a Canadian poet, vocalist, spoken word performer and mentor. She publishes frequently in journals, anthologies, and e-zines. She was shortlisted, highly commended and finalist for many international competitions. Jude has written ten books. A Quiet Coming of Light, A Poetic Memoir (Leaf Press) was a finalist for the Pat Lowther Memorial Award. One of her poems from Splendid in its Silence was chosen by Britain's Poet Laureate to ride around the Channel Islands on public transit for a year. Jude was a featured reader at the Guernsey International Literary festival and an SPM Prize winner. Some of these poems can be heard on her collaborative (viola/spoken word) EP, Places Beyond. Jude and Bonnie Nish started an online collaboration which lead them to write Cantata in Two Voices (Ekstasis Editions), in fifty challenging days. A Blooming (Ekstasis Editions) and We Sing Ourselves Back were also published in 2019, the year she was shortlisted for The James Tate International chapbook surrealistic poetry prize in Ireland. Her eighth book, Impromptu, was launched in the spring. Jude's forthcoming book, The River Answers, will be published by Ekstasis Editions in the winter of 2020. She recently returned from a successful collaboration with the renowned composer and viola player, Thomas Beckman, for the world premiere of The Saint Roch Suite with the Prince George Symphony Orchestra. An opera singer in addition to being a poet, Jude just released her 22 track sampling of vocal jazz, Broadway, classic cover tunes, and opera, representing some of the songs for which she is known. Jude was a writer in residence at Historic Joy Kogawa House, where she wrote her latest book, Inside the Pearl.
---
Cynthia Sharp is a poet, screenwriter, fiction writer and educator, inspired by renewal in nature in the rainforests and Pacific shoreline of her west coast home. Her work has been published and broadcast internationally and is used in classrooms in Canada, the U.S. and the U.K. Poems from her book Rainforest in Russet can be found in journals such as CV2, Lantern Magazine, Toasted Cheese and untethered, among others, and have been nominated for the Pushcart Prize and Best of the Net Anthology. She's featured at Word Vancouver, Pandora's Collective, The SFU Reading Series, The Vancouver Pubic Library, YVR Authors, Words on Fire in Port Alberni, The Writers Read Series in Toronto, Poesic Fest in Denver and events through North America.