Review: Salt Bride by Ilona Martonfi
Reviewed by Vanessa Shields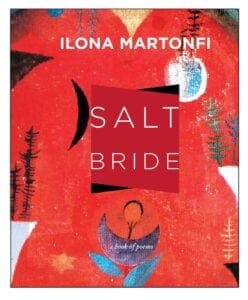 Martonfi's fourth book, Salt Bride (Inanna Publications, 2019) is a collection of poetry that begs for companionship. This is not a collection for the faint of heart nor for the reader who doesn't know her human atrocities his[her]story. The Salt Bride is a deep dive into the atrocities that have brutally stolen lives around the world – and the ripple effects generations beyond. It is a cornucopia of loss, trauma, torture and violence dragged through the bogs, hillsides, streets and homes of our planet.
The companionship it calls for can be found in time, patience, and contemplation. This is not a one-sitting read for each piece needs an attention to detail that reaches beyond the page. To fully grasp the contextual components of chosen world tragedy, one might reach for a history book, a world map, or an internet search that helps further develop the time, place and happening Martonfi writes about.
Nature, wildlife, and weather are strong players in the re-opening of the wails and wounds of suffering the Salt Bride brings back to life and traipses through in the present. There are stories held in vigil by the climbing roses, plum trees, rivers and ravines that witnessed our dark and murderous actions. Martonfi calls out lost souls, lost memories, and the buried-deep sadness in a poeticized justice of remembering. The poetry is fat with rich imagery, haunting honesty and compassion that beautifully bursts through the brutality. This is the work of a highly seasoned poet; and the most powerful pieces are those that encompass Martonfi's own family history.
She yawps as the voice of 'the cursed land', the 'Magdalen Laundry', the 'concrete sarcophagus north of Kiev, Ukraine' – and so many more. Interspersed with ekphrastic pieces re-visioning Degas, Monet, van Gogh, Cezanne; and revelatory personal pieces that offer moments of family trauma, reflection and love, Martonfi marches, crawls, hides and digs to uncover and rediscover the fallen as a reminder that we should never forget – or always remember. She refuses to let deletion be a reason for forgetting.
Through her powerful words, the 'living dead' also become a population to observe with honour and action. By holding up excerpts of the past and essentially exemplifying treatment of mental illness, it's clear to see that monumentally harmful mistakes were made – and that many continue to be made. There are questions begging answers upon reviewing this book.
Is it the poet's purpose to hold up a mirror to humanity? To be archeologists of time expressed through the written word? To be architects of remembering by building layers of metaphor that 'display madness and grammar of space'? To consistently re-reveal the past, scream at the present and philosophize for the future? Interpretation of events can breed a hotbed of negotiations – yet we are still compelled as poets to stand steadfast on the fine line of whose stories are told and how and by whom. Salt Bride is an offering, a collection of lifted lamentations from the past woven into the present with a nod to a future where remembering is, indeed, the landscape on which poets can travel – mirror in one hand, pen in the other.
---
Vanessa Shields has made her home, her family and her work life flourish in Windsor, Ontario, Canada. Her passion for writing was discovered at a very young age through the vein of writing in a journal. Her first book, Laughing Through A Second Pregnancy – A Memoir, was published by Black Moss Press in 2011 to rave reviews. In April 2013, Shields edited a poetry anthology entitled, Whisky Sour City (Black Moss Press). I Am That Woman (Black Moss Press), her first book of poetry, was published in January 2014, and had its third printing in 2015. Look At Her (Black Moss Press) launched in September 2016, and went into its second printing in December 2016. In 2017, Shields was part of a Group of Seven poets published in an anthology about the history of Windsor, entitled Because We Have All Lived Here (Black Moss Press). In June 2018, the chapbook Feminism: Revisit, Revise, Revolutionize: A Two-part Harmony was published by the League of Canadian Poets' Feminist Caucus with Shields as co-editor/introduction writer. She writes a monthly blog for the League of Canadian Poets on being a writing parent. She is passionate about promoting poetry and the writing life, and is often on a jury (or two!) for major awards and/or contests.
She has self-published a collection of children's poetry entitled From A to Ziffery Zanks with Windsor illustrator Glen Hawkes. This collection launches in the fall of 2019. A new collection of poetry, (working title) thimble will be published by Palimpsest Press in 2021.
Her poetry, short stories and photography have been published in various literary magazines. She mentors, guest speaks and teaches creative writing, and does Poetry On Demand – on-the-spot poetry-writing that helps make poetry fun and accessible for all. As creator and host of Mouth Piece Storytelling, a storytelling competition, Shields is able to share her love of storytelling with her community.
Shields is the owner of Gertrude's Writing Room – A Gathering Place for Writers. Gertrude's Writing Room offers creative writing classes and workshops. Visit www.gertrudeswritingroom.com for all the exciting offerings.