Scotland Forever: a review of The Walk She Takes by Neile Graham
reviewed by Louise Carson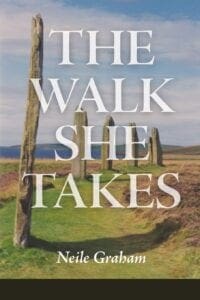 Full disclosure.
I don't know Neile Graham, creator of the poems in The Walk She Takes, but I do know Scotland, the subject of the thirty eight poems in this book.
I don't know it as well as Graham, who has visited multiple times to my once. But I think we share a love for the small country of five and a half million, based on a common Scottish heritage and an appreciation for the grandeur of its countryside and haunting history, which Graham certainly senses and with which she engages.
Scotland is a weird place, as in: fantastic; magical. And many of Graham's poems celebrate that. But she also explores and details lives lived simply, the best example of which can be found in the centre of the book. The book is divided into five geographic regions and one village: Auchindrain. In the twelve pages of 'Auchindrain Inventory: Village Museum', we look through "…a rare window into the lived experience of ordinary folk." (Graham's words, introductory note.)
As we'd expect from an inventory, the poem sequence is a list. Graham presents details about house construction and food production, and about the making of tweed, which would have come from the sheep's back to the spinning wheel to the cauldron where it would have steeped in concoctions made from various plants to dye it. She sets these plants down at the beginning and ending of the long poem.
iris: green & light brown
tormentil: whitish
bog myrtle: mud brown orangish yellow
heather: dark orangish yellow medium brown
and
thistle: soft grey
St. John's wort: light light beige
foxglove: dark cream
wild daisies: soft brown
In so doing, she gives us not only the subtle colouration of the finished cloth but brings the shapes and colours of the original plants and thereby the landscape's colours to us.
But back to the beginning of the book, where Graham sets the ancestral stage. In '3 St Ronan's Drive', a Glasgow address, she mentions passing all the places family members were known to live (without her being able to go into the buildings), while in 'How To Explore The Land of Your Ancestors' one is advised to "Wear your fingerprints, embrace your DNA" and "Find your fingerprints (grubby and virulent) everywhere".
Further along in the book in 'Sinclair and Girnigoe Castles', she realizes she is on a (partly) foolish errand. "visitors like me who want/ to touch everything to think they know/ something
of this toppling history not their own". And feels the ache of the soul damaged by extraction from place.
In 'What I Mean When I Talk About Ruins' the poet sees her body as weathered remains and states "Take me:/ awash with weather/ vertebrae and weeds flourish,/ a different glory." She
conflates again in 'The Walk She Takes: Smailholm Tower' where she hears in "all wind the lament of the border widow, she:/ I took his body on my back/ And whiles I gaed, and whiles I sat;/ I digged a grave and laid him in/ And happ'd him up with sod sae green." Graham then
comes upon her still living husband leaning against a wall, and is herself now the 'she' of the poem. "She's walking the borders,/ she's out ghosting. She's getting used to harm."
With these and subsequent examples I have only scratched the surface of the wonderful poems in this collection.
At the end of 'Westron Wind': "I'm lost/ in fog lost here lost lost lost. I know I know I know."
From 'Duncansby Stacks, Caithness': "It's a wild world/ we're riding in a storm we can only/ hope is cleansing. Batten down./ Batten down."
From 'Petraphilia' which begins with: "Waves love stone." And, near its end: "How can you not/ believe the tale of the stone standing on the hill/ who one day each year can bear it no more but must/ walk down to the lake and drink?"
But I will let Graham's line from 'Kilchurn Castle Picturesque' sum up what she offers in these poems, in one epiphany among many: "true beauty:/ grey stone and a span of grace."
The Walk She Takes by Neile Graham. MoonPath Press, Oregon, 2019. 100 pages.
---
Louise Carson has published eleven books, three of them about Scotland. Her first collection of poetry – A Clearing – appeared in 2015 from Signature Editions; her second – Dog Poems – in 2020 from Aeolus House. She lives near Montreal, Quebec.